Individual lessons take place in compliance with the rules of conduct due to the current corona situation (wearing a mask, hand hygiene, ventilation)
FREQUENTLY ASKED QUESTIONS
WHAT HAPPENS IN AN ALEXANDER TECHNIQUE LESSON?
In an Alexander Technique lesson, the teacher instructs you — with verbal and manual guidance — to approach movement differently in order to develop mental and physical awareness before and during each movement. Not only will you learn to recognize habit patterns that may be interfering with ease, flexibility, and balance, but you will learn how to change them. The experience gained can enable you to maintain healthy poise for the rest of your life.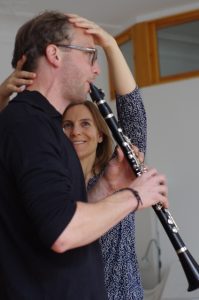 HOW LONG TAKES A LESSON?
A lesson lasts between 30-35 min.
WHAT DO I NEED TO BRING FOR AN ALEXANDER TECHNIQUE LESSON?
You can come in your normal everyday clothes, comfortably if you like. Please don't forget socks.

DO I NEED TO DO EXERCISES AT HOME?
No. The exercise is daily life. You will integrate the principles of the Alexander Technique into your everyday life, so that changes and improvements can occur over the long term.
HOW MANY ALEXANDER TECHNIQUE LESSONS SHOULD I TAKE?
To build up a certain pool of experience, I would recommend about ten sessions. The Alexander Technique can be applied independently after just a few teaching units.
In order to be able to change your habitual movement patterns lastingly, I recommend taking individual lessons regularly and over a longer period of time, at least 1/2 year.
Prices:
Trial offer: 2 hours for € 80
A single lesson for € 60
Newcomer 10-pass card for € 580
Signing up for lessons is as easy as contacting Livia!
Telefon: 0177/8737822
E-mail: info@liviapoliti.berlin